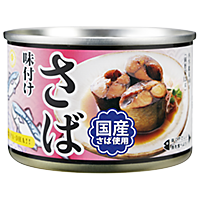 Canned Mackerel in Soy Sauce
Made of mackerel caught in Japanese coastal waters.
Frozen on ship immediately after catching, and commercially processed in a food processing plant in Thailand.
Cooked in soy sauce and sliced ginger until tender!
Ideal as a side dish in a lunch box, accompaniment for rice dishes, or a nibble with drinks.
Try adding it to vegetable stir-fry to allow the mackerel flavor to come through!
Great nutritious food for kids who eat less fish or none at all!
Net Weight

160g
JAN

4942355087342
Storage
Instructions

Keep at room temperature, out of direct sunlight and away from high-temperatures and humidity.
Country of Origin

Thailand
Nutrition:
Per can/160g

●Energy:357kcal ●Protein:27.8g ●Fat:22.4g
●Carbohydrate:11.0g ●Salt:2.1g ●N-3 Fatty Acid:5.3g
Nutrition:
Per 120g of
Drained Weight

●EPA:432mg ●DHA:972mg
Allergen

●Wheat ●Mackerel ●Soy




* Allergen information may vary with the changes in product specifications. We strongly recommend that you always check the label or the information available on the product you purchase before using or consuming the product.
Disclaimer:
* Image is for illustration and inspiration purposes only.
* Some products may not be available at certain stores.
* We may remove certain products from this website or we may discontinue the products offered on this website for any reason without prior notice.
* Some products have identical or similar packaging, however the ingredients and nutritional contents vary for each product.
* We endeavor to display the most recent and accurate product information on this website; however, due to uncontrollable manufacturing conditions, product standards or specifications (e.g. net weight, packing specifications, ingredients, country of origin, etc.) may be subject to change.